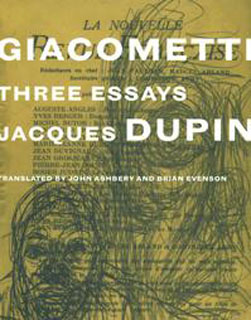 Translated from the French by John Ashbery and Brian Evenson
The first essay in this volume, "Texts for an Approach," written while Giacometti was still alive, was translated by John Ashbery and published as a limited edition by Galerie Maeght in 1962. The second and third essyas, "Impossible Reality" and "A Writing Without End", translated by Brian Evenson, were selected by Jacques Dupin to accompany it. Published as a single volume in France, this is the first appearance of these essays in English.
Published by John Yau's Black Square Press, beautifully designed by Jeff Clark.