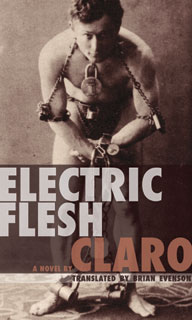 Translated from the French by Brian Evenson
A shimmering fantasia about Harry Houdini and the uses and misuses of electricity, written by the French translator of Pynchon, Vollman, Barth, Gass, Acker, Danielewski, and Dennis Cooper.
Howard Hordinary—convinced he is the bastard grandchild of a rumored liaison between Houdini and Charmain London (Jack London's wife)—schemes to restore his status (as executioner and as Houdini granchild), while Houdini himself travels a world populated by freaks, carnies, scientists, con men, and lunatics, in pursuit of *SZUSZU*, the enigmatic "Electric Girl," with whom he shared billing early in his career. Combining the paranoid historical sweep of Pynchon and Vollman, and the linguistic experiments of Ben Marcus, Shelley Jackson, and Matthew Derby, Electric Flesh runs an alternating current of language through the body of America.
"This is an astonishing piece of delirious, supercharged prose. It makes one think of Pynchon, of Joyce, of various kinds of Fear and Loathing. It's a short intense burst of high linguistic voltage, and the translation is simpy outstanding. There's nothing much like the zing and heat of Electric Flesh in these cautious, undercooked times."
—Salman Rushdie
"Claro is a verbal power station who'll light up your brain the way he lights up the page. It was for tour de force performances such as Electric Flesh that God created language and the Devil created style."
—Tom Robbins
"Claro's novel has captured in language what Houdini must have experienced, the panic and thrill of both confinement and escape. I was trapped by this work from the onset and I'm not free yet. Many thanks to Mr. Evenson for this translation."
—Percival Everett
"Excessuve, extreme, obscene, Claro's vision of an immoral application of electricity is beautifully strange and unsettling."
—Ben Marcus
"Three story lines fuse and ignite in this brief novel by the French metafiction master who publishes under a single name... [Electric Flesh] bring[s] the history of electricity closer to a century of terror and torture."
—Publishers Weekly