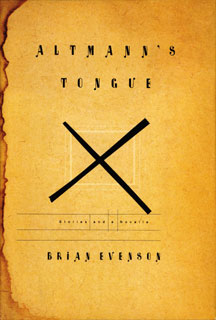 (The paperback contains an introduction by Alphonso Lingis and a new afterword by the author.)
Altmann's Tongue was Brian Evenson's first book of stories and was the source of considerable controversy at Mormon-run Brigham Young University, where he was teaching at the time of the book's initial publication. After an anonymous letter sent to Mormon Church officials attacking the book, Evenson was told that if he wanted to stay at Brigham Young he would have to agree not to write another book like Altmann's Tongue. Instead, he chose to leave Brigham Young. The paperback edition contains an additional story, the O. Henry Prize winner "Two Brothers", an introductio by philosopher Alphonso Lingis, and an afterword by the author in which he describes the controversy surrounding the publication of the book.
According to the original jacket copy, "Altmann's Tongue is a theatre of solitudes. Its moods are chilling, its temperament is cold, and the episodes that construe its twenty-five short fictions and the long fiction, The Sanza Affair, are, in every aspect, brutal—as if brutality was the medium of our relations with one another and the instrument of our will to record the ultimate expression of ourselves. In Evenson's world, all moral and all social categories dissolve. Only diction and syntax count—and they count only insofar as they might succeed in freeing utterance to enact itself at its most cruel. For reasons the language knows, there are events—bystanders slain for passing along wrong directions to motorists in leisurely pursuit of dark errands, fathers interring children without bothering to walk a little distance to inform the mothers, mothers seeking to reintroduce sons to the incomparable solace of the maternal fold—that issue out of certain densities of feeling, out of certain intensities of action. It may be that a prefix or a suffix sets everything in motion—and that all fate is linguage and, in these terms, logical. Meanwhile, we have a young American writer and his fierce debut. What he has dared to set down is strange, very strange—and very strangely fascinating.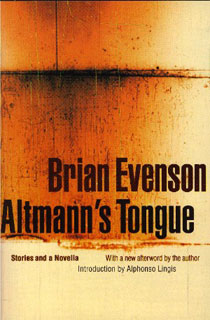 "Altmann's Tongue strikes me as powerful, by reason of the mode of the language and the unusual style, by reason of the violence and the force of the words... I admire this book."
—Gilles Deleuze
"Showing off Evenson's myriad skills, the stories range from rural tales of death to a retelling of the biblical Job story, in which a skeletonized Job trades barbs and blows with a murderous lumberjack.... There is a detached brutality to the collection, similar to Beckett's novels, which, due to Evenson's precise control over language is both disturbing and compelling."
—Review of Contemporary Fiction
"The spirit of Edgar Allan Poe inhabits this collection of violent and mysterious stories that recall not only the master of the perverse but also the seamier side of the nightly news.... Many of these tales, particularly the short-shorts, remain enigmatic, resistant to any explication; yet even they are told in such a compelling fashion that one reads not to understand but merely to witness."
—Publisher's Weekly
"Evenson has created a fascinating, mysterious and austere prose set in scenes that attain the precision of a staged burlesque. Through the sparse economy of the plot and settings, Evenson's great moral sensibility is glimpsed behind the carnival mask of apparently frivolous murder."
—Seattle Weekly