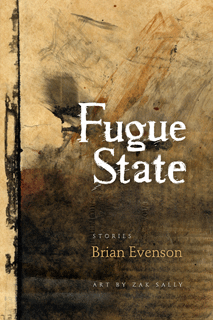 On Time Out New York's Best Books of 2009 List
Hallucinatory and darkly comic, these 19 stories of paranoia, pursuit, sensory deprivation, amnesia, and retribution rattle the cages of the psyche. And through the illustrations of graphic novelist Zak Sally, this unsettling world is brought to life. From sadistic bosses with secret fears to a woman trapped in a mime's imaginary box, and from a post-apocalyptic misidentified messiah to unwitting portraitists of the dead, Brian Evenson's mind-bending fiction exposes the terror contained within our daily lives.
Fugue State contains 19 drawings by two-time Eisner nominee Zak Sally, plus his graphic collaboration with Evenson, "Dread."
***Click here to read "Younger" on the Arthur website***
***Click here to listen to Evenson read "Younger" from Fugue State***
"Brian Evenson is one of the treasures of American story writing, a true successor both to the generation of Coover, Barthelme, Hawkes and Co., but also to Edgar Allan Poe. "
—Jonathan Lethem
"Brian Evenson is one of my favorite writers. The stories in this collection will thrill, unsettle, and captivate. Like lanterns in dark rooms, paper boats carried down on subterranean waters, they lead the reader into mysterious and perilous territory. Read at your own risk."
—Kelly Link
"Brian Evenson is the Donald Barthelme of psychological horror."
—Ross Simonini, The Los Angeles Times
"Evenson accesses dark, unusual facets of human frailty, powerlessness and fear... This intense, nightmarish collection captures the fear of night terrors, when one wakes in the middle of the night, unable to move."
—Publishers Weekly
"The specific genius of Fugue State rests in subtlety, in Evenson's ability to maintain suspense, dread and paranoia through utter linguistic control." (5 stars)
—Time Out New York
"...laughter can be an effective tool of the horror writer, and Evenson is its finest practitioner."
—Jonathan Messinger, Time Out Chicago
"The stories' subjects are by turns disturbing and hauntingly plausible... Throughout this roller coaster of psychological provocations, Evenson holds the reader with restrained language and endless imagination."
—Flavorwire
"Evenson's Fugue State is as filled with exquisite language as it is meticulously arranged; his sentences swirl and surround you in their incredible complexity and their emotional layers. They often terrify, in a visceral but also in a deeply psychological way."
—John Madera, Open Letters
"And what do we see in Evenson's stories but a part of Being that we try to avoid in our own lives as much as possible? It is the part that we hope to ignore until the very last possible moment, until all other methods of escape have dropped away, leaving us wide-eyed, distraught, fully associated now with our greatest fears... Is it odd to suggest that Evenson's words are so powerful, so carefully strung together that they can wrap us in other worlds of his creation, thus briefly dissociating us from the sometimes unpleasant happenings of our own?"
—Ryan Call in The Collagist
"No one writes about characters in disassociative states better than Brian Evenson."
—Brian Lindenmuth in BSC Review
"Evenson's protagonists exhibit immense and quintessentially human energies: they may ultimately go down to defeat, but they do so without granting easy victories to their oppressors -- even if the tormentor proves to be one's own dark doppelgänger."
—Paul Di Filippo in The Barnes and Noble Review
"These 19 satisfying and surreal stories plumb the psyches of murderers, paranoids, frightened children, bitter ex-husbands, religious zealots in post-apocalyptic worlds and people whose fleeting sanity will be gone by story's end. Evenson takes even his most fanciful characters seriously even as he partakes of gallows humor; this book is as packed with subtly hilarious sentences as haunting images."
—The Cleveland Plain Dealer
"...a break out work... For fans of Evenson's darker stuff, this is a brilliant showcase for his capacities as a writer. For anybody unfamiliar with Evenson, this book is the place to start."
—And Now the Screaming Starts
"There are musical fugues and psychological fugues. Brian Evenson's polyphonic new book of psychological short stories, Fugue State, adds the literary fugue to the list."
—Scott Abbott, The Goalie's Anxiety